Did you know that finding a free thumbnail or channel art maker is one of the top priorities of many newcomers to YouTube? But you don't have to be a YouTube newbie to have this concern. Many YouTubers don't know, for example, the correct thumbnail size or what channel art creator to use because there are too many options online.
Before you upload another video, read this guide to learn about the most up-to-date, free tools so you can make your banner and thumbnails look the most clickable and attractive to viewers. With all the thousands of template ideas, backgrounds, and photos these tools are offering, you will absolutely be able to create a click-worthy masterpiece!
The table below rounds up all the tools listed in this article. You can see which tools are completely free and which have paid options to upgrade to pro versions. Some free versions also have pro versions, but it's not required to upgrade.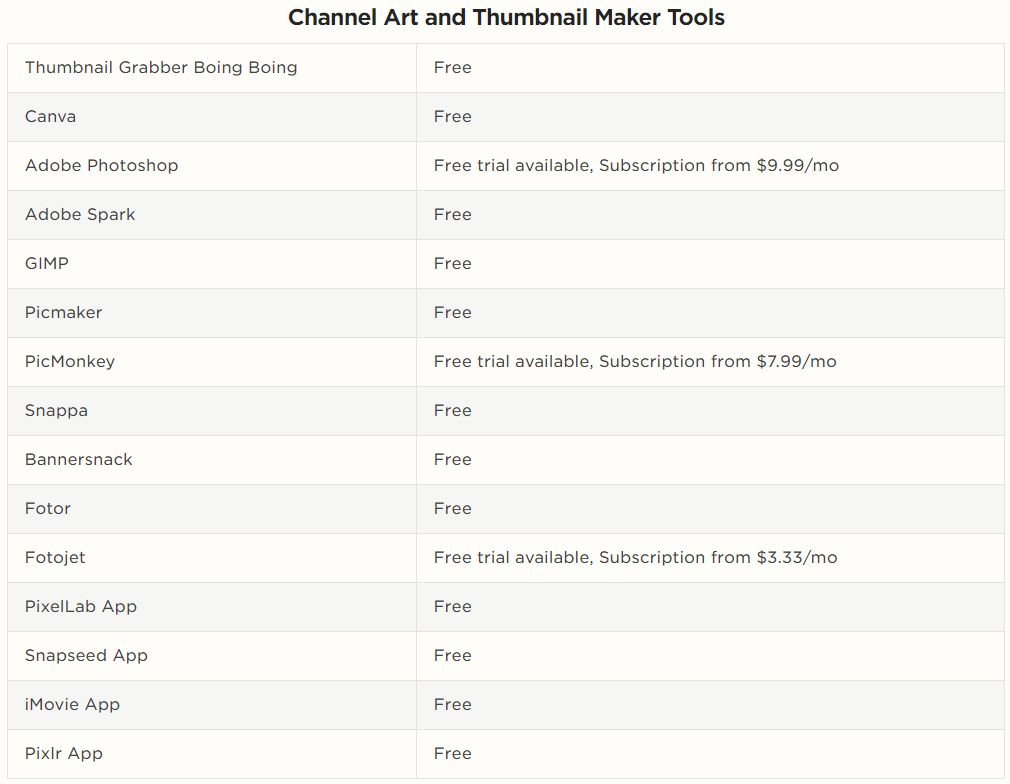 15 Free YouTube Channel Art and Thumbnail Maker Tools :
1. Thumbnail Grabber Boing Boing

The video on YouTube
Boing Boing is a thumbnail grabber tool that will extract the thumbnail from any YouTube video. You simply need to enter the URL of the video into Boing Boing's search engine, and in moments it will return screen captures of the thumbnail for that video.

The extracted thumbnail
Boing Boing is a very straightforward tool. Why use Boing Boing? It's free and easy-to-use, plus you can capture the thumbnails of your competitors' videos and use them for inspiration.
Many YouTubers like to keep collections of their favorite thumbnails to inspire their own designs. Use Boing Boing to quickly capture thumbnails from all your favorite videos and create a library of thumbnail ideas!

2. Canva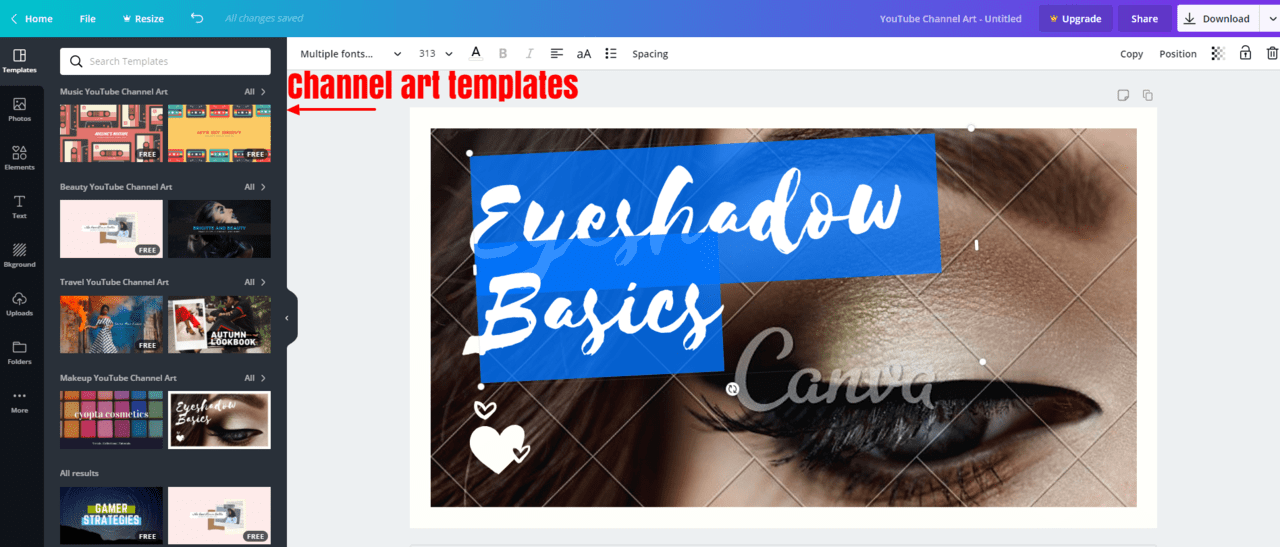 You know Canva is a good option when it's specifically recommended by YouTube. That's right - the YouTube Creators Academy suggests Canva as a reliable design tool for YouTubers, so of course we had to mention it here.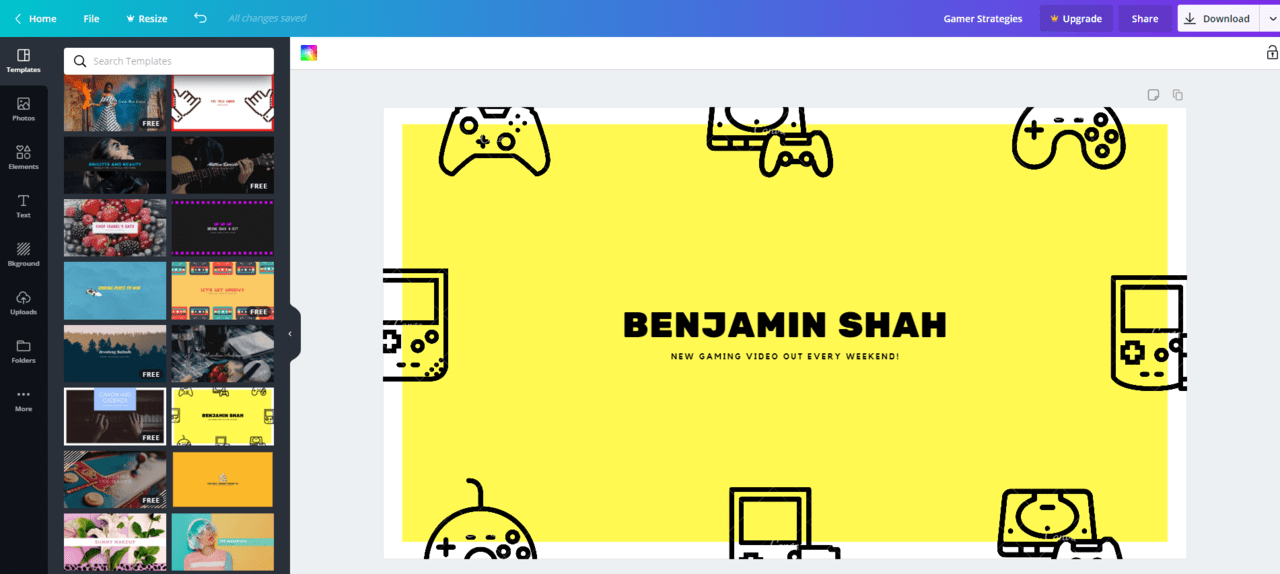 Canva offers over 2 million images to play around with, not to mention all the background and font options which number in the hundreds. There's plenty of content on Canva to satisfy all your design needs.

3. Adobe Photoshop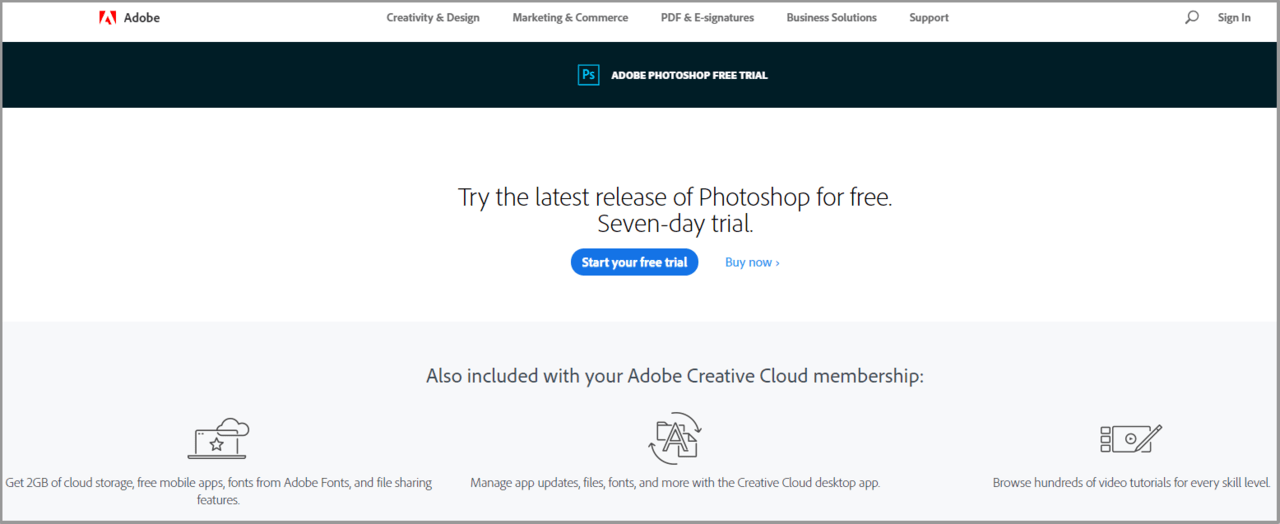 Adobe Photoshop is a household name for photo editing software, but you may also know that it's quite expensive. We had to include it in this list due to its massive reputation as one of the best editing tools on the market. You can make highly advanced channel art and thumbnails with this tool. What's more, you can try it for free with a seven-day trial!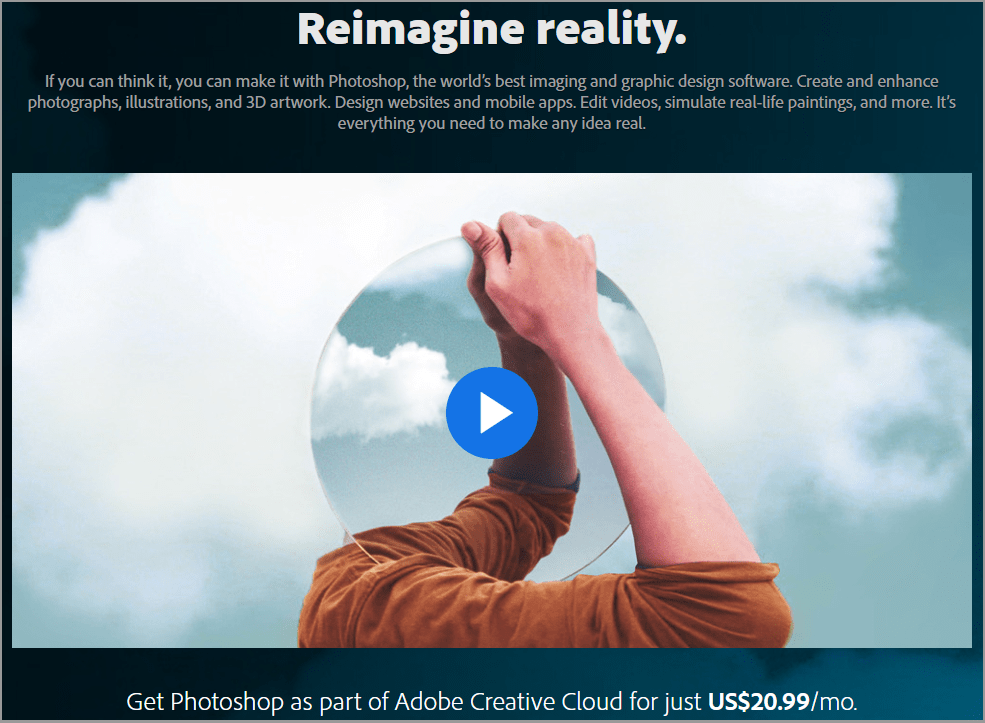 If you love Photoshop as much as we do, then you can seal the deal and rent the software starting from $9.99/month. You'll then have permanent access to the amazing features of Photoshop.

4. Adobe Spark

Adobe Spark has a fair selection of templates to satisfy most users and their Inspiration Gallery is great for those who aren't sure what they want to design. You can create thumbnails on Adobe Spark with exactly the right dimension for uploading to YouTube - this takes a lot of worry out of the design process.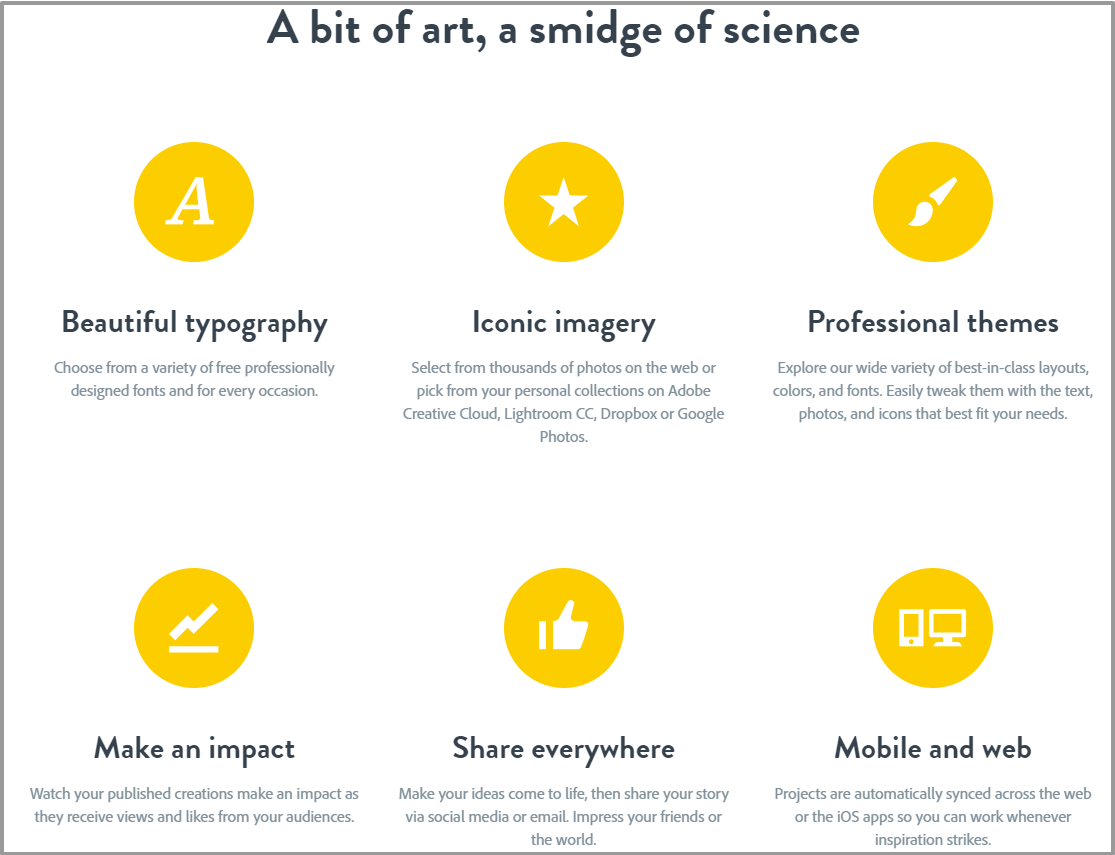 Adobe Spark claims to give the designer complete freedom over their design. And with the option to view what other designers have created, the opportunities for inspiration are endless. Spark truly stands out as a design tool for beginners since you can gain all your creative inspiration directly from Spark without needing to have any kind of design knowledge or concept.

5. GIMP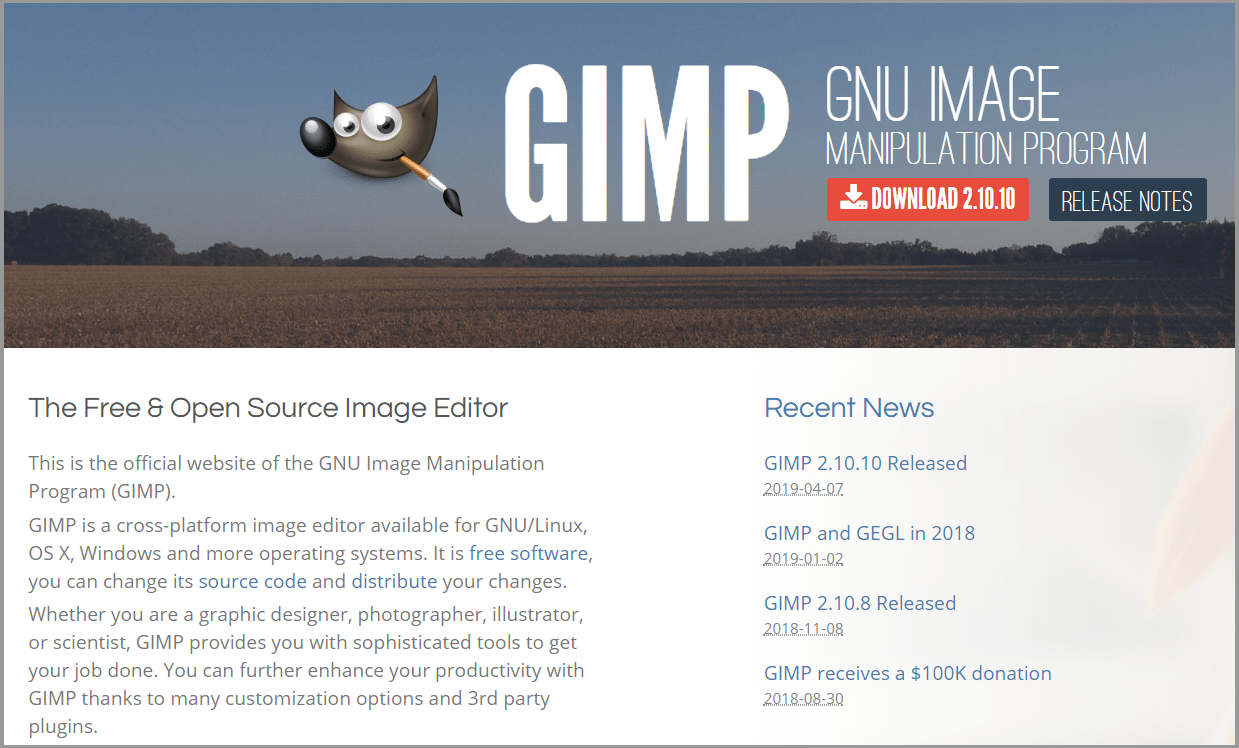 GIMP has the feel of a professional editor while being free and open-source. This tool is great for more advanced users. The interface of GIMP can be customized according to the task at hand, making it a highly versatile tool. GIMP offers photo enhancement features, meaning you can create highly polished, professional-looking channel art with GIMP.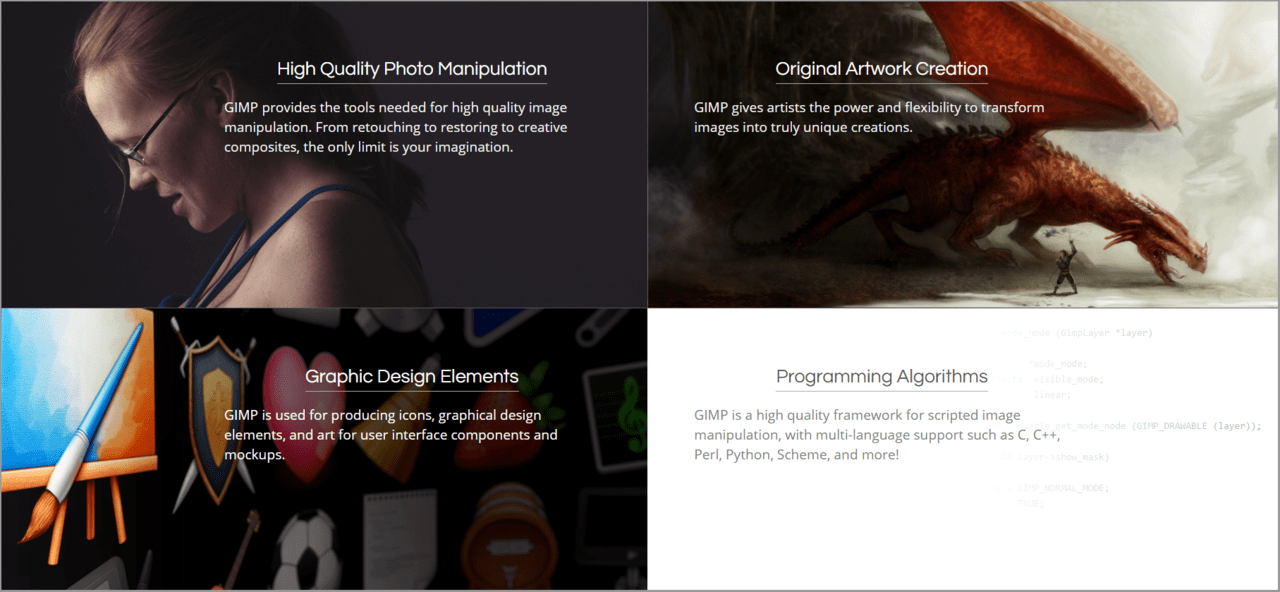 It's said that GIMP is ideal for advanced photo retouching techniques, so the one possible drawback of GIMP is that it won't be as beginner-friendly as some other tools in this list. However, GIMP offers plenty of tutorials for beginners that will help you master the photo editing features quickly.

6. Picmaker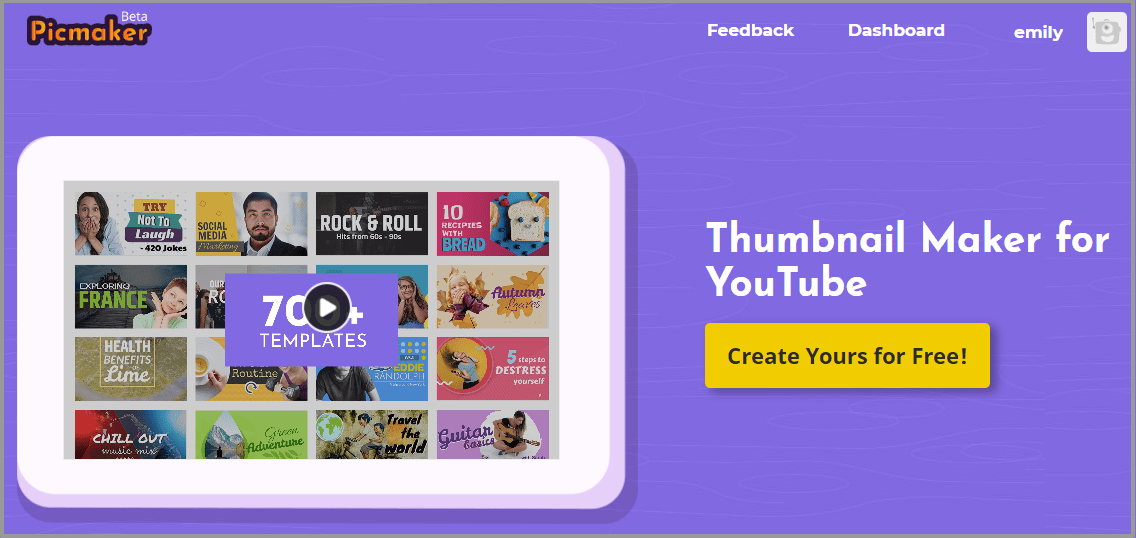 Picmaker sets itself apart from the crowd by being a design tool exclusively made for YouTubers. Other design tools cater to many forms of social media, but Picmaker's tools were solely made for creating YouTube channel art and thumbnails.
Picmaker has hundreds of pre-made thumbnail templates to choose from. Even though it's free to use, the quality of the templates and graphic elements look professional. You can make seriously polished thumbnails using only Picmaker - there's no need for any other software because Picmaker can do it all.

7. PicMonkey

Online photo editor PicMonkey offers a 7-day free trial and then the editor can be purchased for $7.99/month. We think it's worth giving PicMonkey a try for their huge library of fonts, the complementary mobile app, over 60 effects and filters plus thousands of graphics and icons.

PicMonkey has tools for making collages, which is a common technique used in YouTube thumbnails. Users say that the editor is easy to learn and use, which makes it a great choice for beginners to design. It's easy to make fine adjustments to photos in PicMonkey, so you can achieve beautiful photography to use in your channel art.

8. Snappa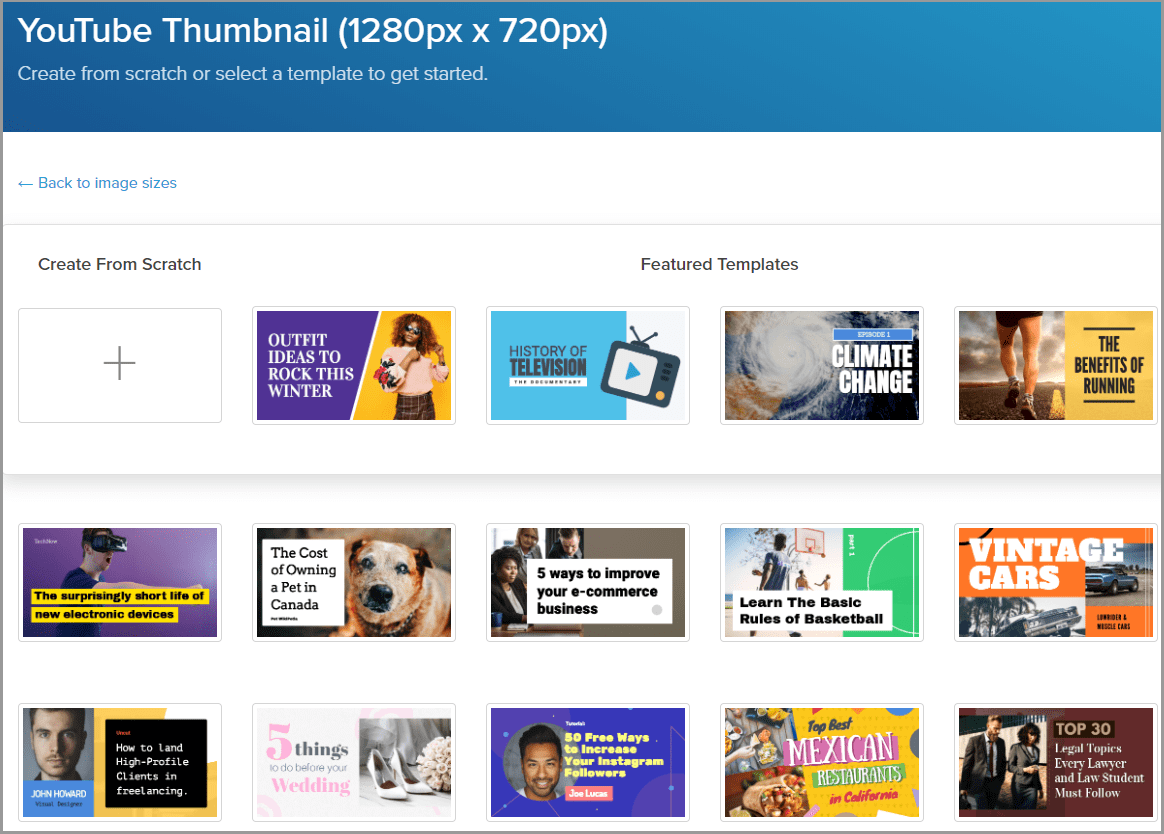 Although Snappa looks pretty basic at first glance, it actually has a lot to offer. Despite its minimalist appearance, Snappa is a powerful photo editor with an abundance of features for bringing your designs to life. The editor offers over a million photos, 100,000 graphics, and 200 fonts for your designing pleasure. There are also several templates to choose from in case you need some inspiration and don't want to start from scratch.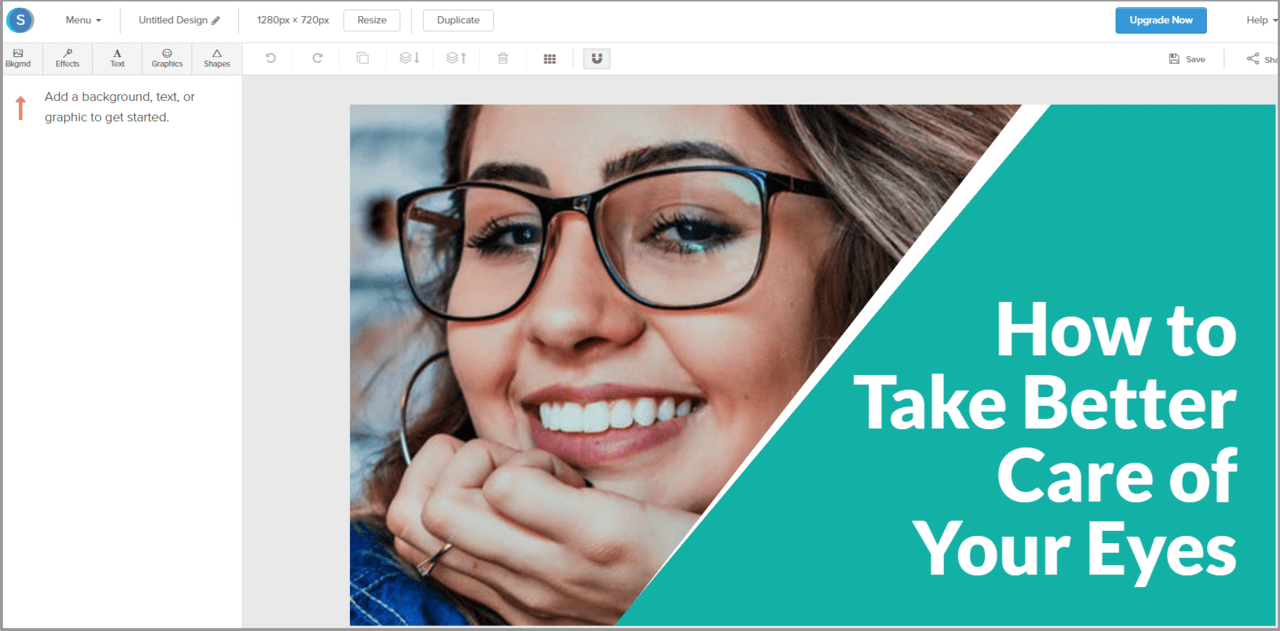 Some other key features of Snappa:
The ability to resize graphics, such as by transforming your Twitter header into a YouTube banner.
You can upload your own photos and graphics to the editor.
It's possible to save your designs in the editor to keep everything nicely organized.
The editor supports custom fonts, so you can upload your own fonts and use them.


9. Bannersnack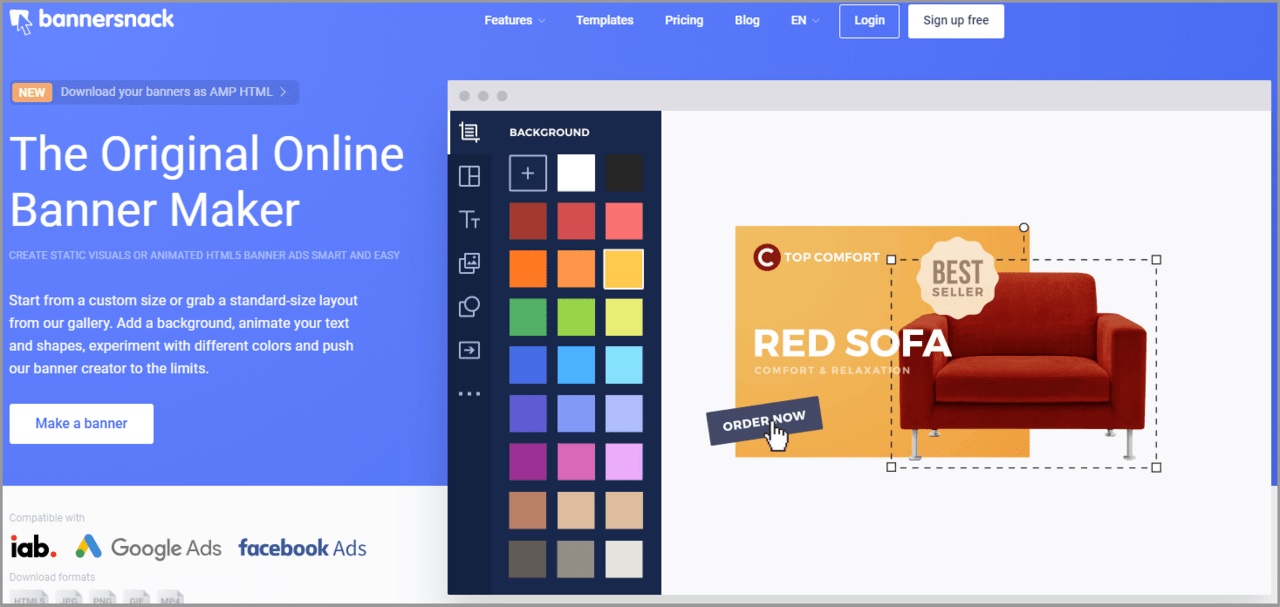 Bannersnack invites users to push this banner maker to the limits. You can start by using a template or customize the banner size. Hint: If you're going to create a YouTube banner with Bannersnack, be sure to use the right size banner!
You can completely revise a template or make small changes to your design. Bannersnack has finely-tuned tools allowing you to adjust the opacity and line height of text to get everything looking just the way you want it.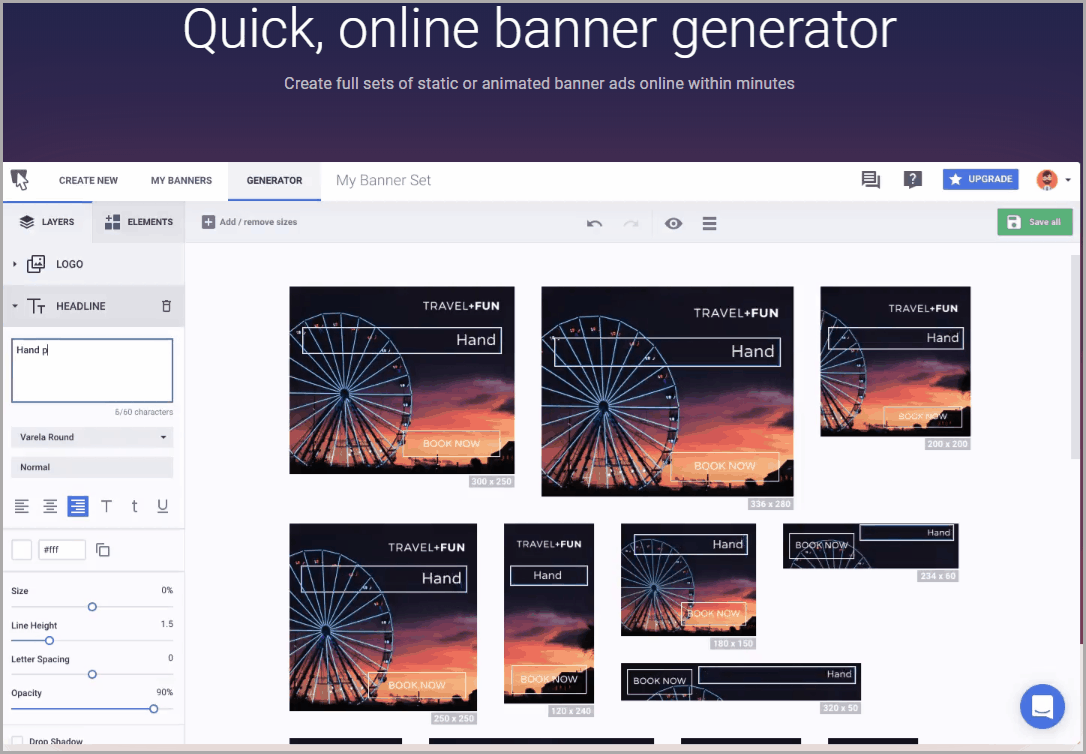 Bannersnack is completely free to use. We love that their free version gives you access to the font and stock photo libraries. The one downside to the free version is that the final project will be protected by the Bannersnack watermark. To remove the watermark, you'll need to enroll in the monthly subscriptions starting from $7/month.

10. Fotor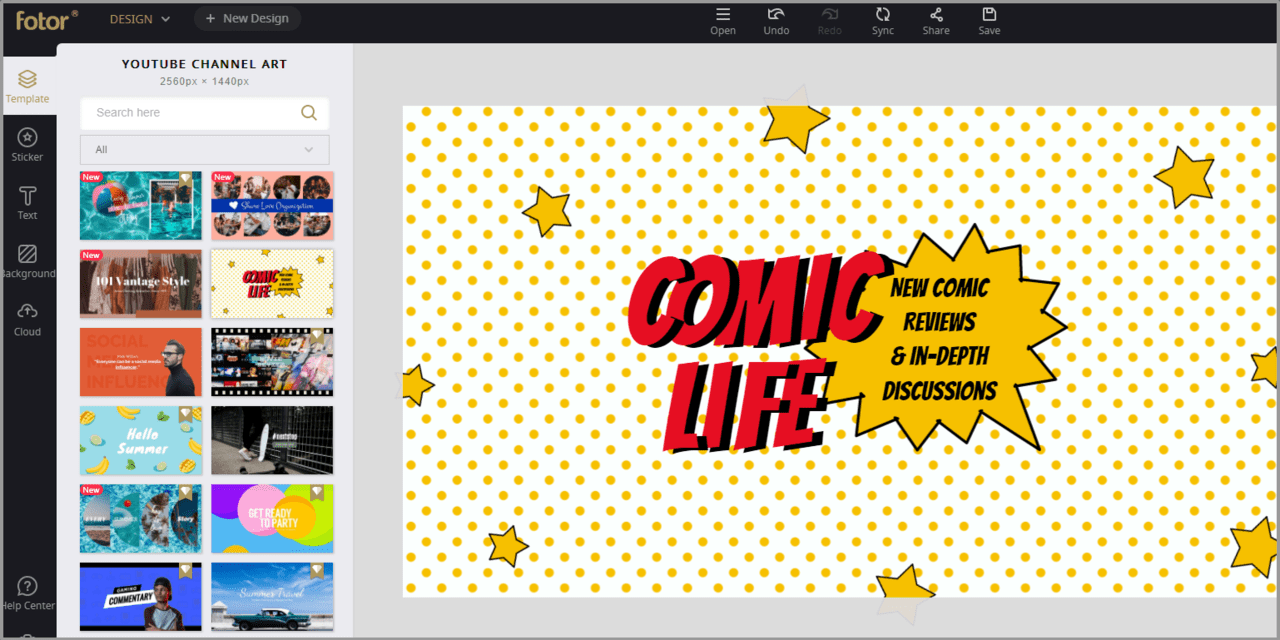 Online photo editor Fotor has over 300 million users, so that should tell you something about the popularity of this tool. People have definitely taken notice of Fotor's editing lineup. Some of the features you can enjoy with Fotor include:
Photo retouching tools to make fine adjustments to your images
A collage maker
A range of photo effects and filters
'Beauty features' for retouching portraits
Thousands of professionally designed templates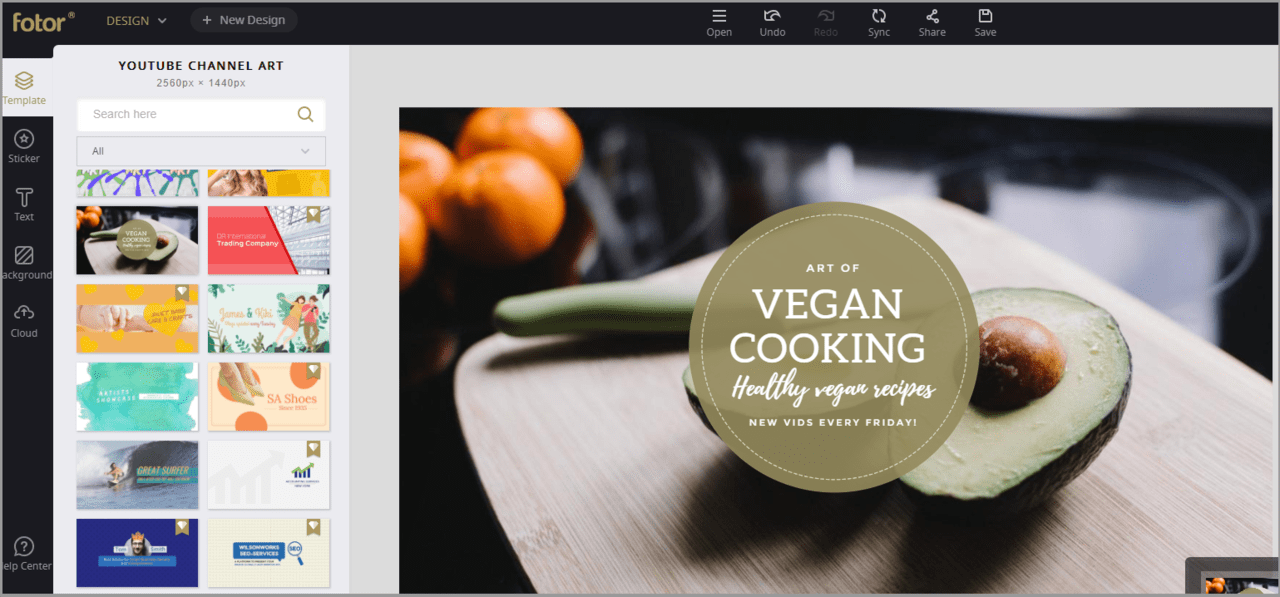 Fotor is free to use but you can upgrade to Fotor Pro for the low price of $3.33/month, which is one of the cheapest monthly editor subscription fees we've come across. Fotor Pro introduces you to premium resources such as ad-free editing and advanced features updated weekly by a team of designers.

11. Fotojet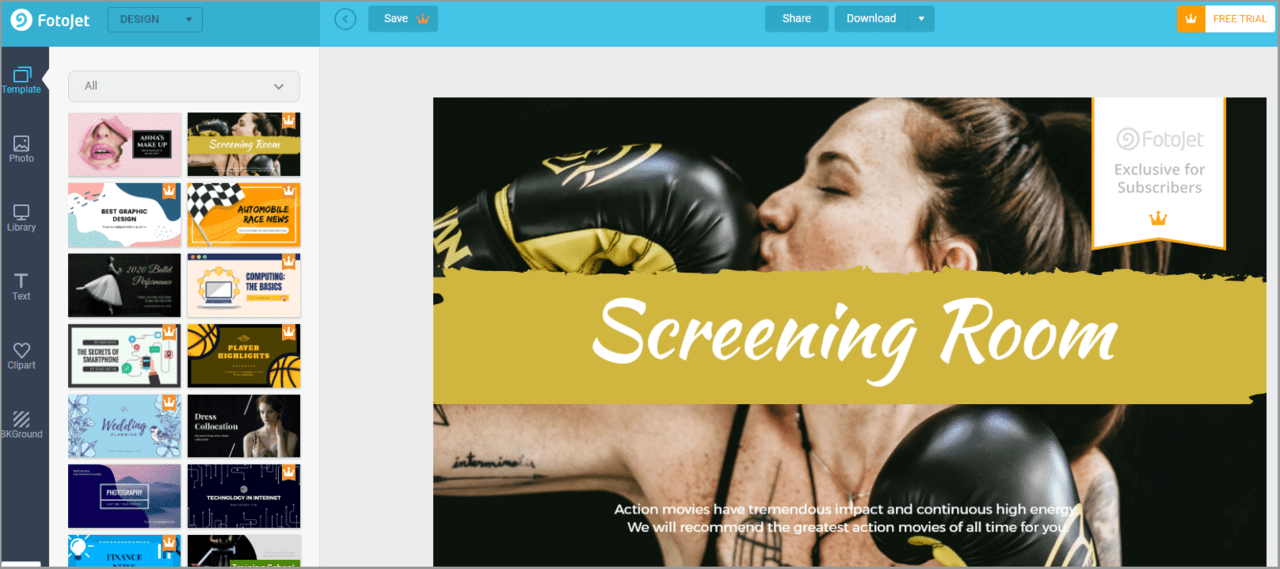 Fotojet is a graphic design, photo collage, and photo editing tool. It really is an all-in-one service for designers. What's great about Fotojet is you don't have to download anything or register to start creating a thumbnail or channel art. They offer templates designed specifically for YouTube channel art, so you can whip up a channel banner in actual minutes using this editor.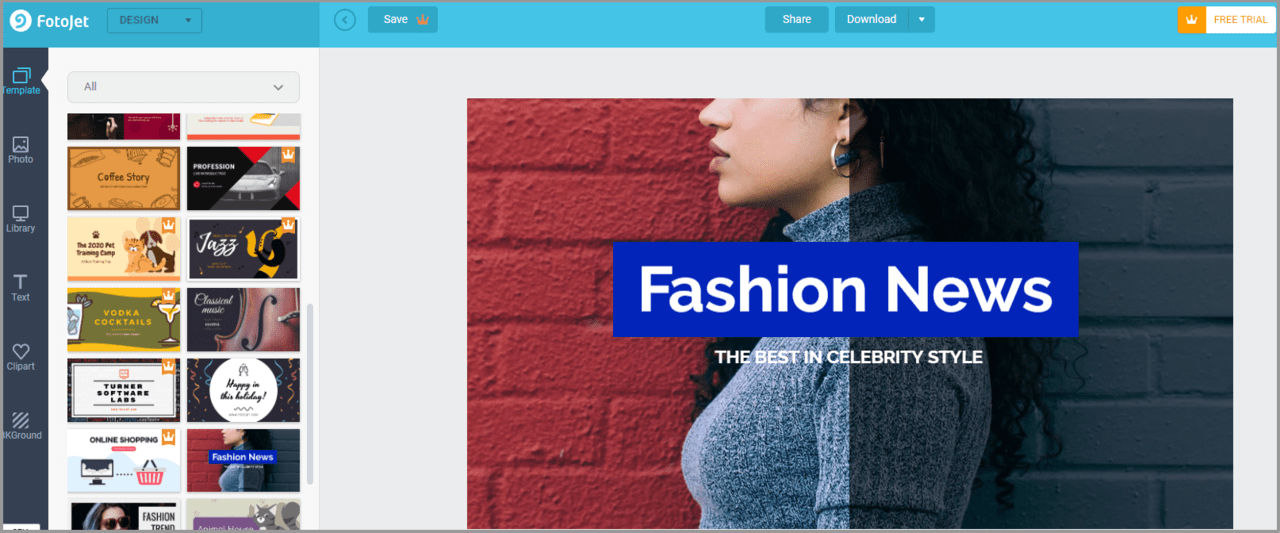 Fotojet is considered a powerful photo editor with high-quality tools for achieving polished results. Although it's a powerful tool, it's actually very simple to use and even newcomers to design can turn out works of art. The emphasis of Fotojet is that anyone can become a graphic designer by using this tool. Take advantage of their handy collage maker to throw together a cool-looking thumbnail or channel banner!
12. PixelLab App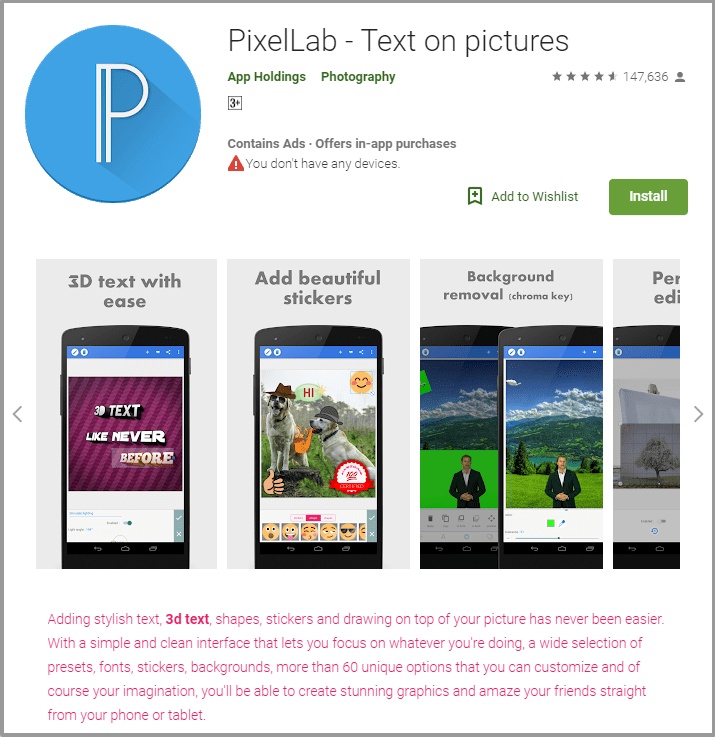 The PixelLab app gives users a unique experience with their wide assortment of font options. With over 60 editing options, this app has enough power to turn out great-looking thumbnails or channel art.
They even have a background removal tool, which is a popular editing choice for thumbnails in particular.
Note: Many top YouTubers will use pictures of themselves in thumbnails, remove the background, and use the cut-out photo on top of a new background.
Users say that this app creates artwork that doesn't look as if it were designed on a phone. That's what has launched PixelLab into popularity among YouTubers. You can get professional results with just a few taps and swipes.
13. Snapseed App
According to the developers of the Snapseed app, "Snapseed is a complete and professional photo editor developed by Google." This app allows for finely tuned editing, such as adjusting photo filters precisely, so you can turn out professional-looking photos without turning to your PC.
Snapseed boasts their pro-level editing tools which will satisfy even the pickiest of designers. The app currently offers 29 different tools and filters. With their healing tool, for example, you can remove unwanted parts of a photo or use the brush tool to precisely adjust exposure, saturation, brightness or warmth.
Snapseed is the tool for you if you're the type that likes perfect results and photography is your passion. You can create pro-level thumbnails and channel art using Snapssed.
14. iMovie App
The iMovie app might not seem like an obvious choice for channel art design, but wait! Many YouTubers claim you can get great screenshots of your videos using iMovie.
How it works: You play one of your videos in the app and simply take a screenshot of any visually interesting point in the video.
Voila, you have the background for your next thumbnail. Then just edit in some text and graphics using any of the other free apps or editors mentioned in this article!
iMovie is a great choice if you're in a hurry and just need something that will help you bang out a thumbnail so you can upload sooner.
15. Pixlr App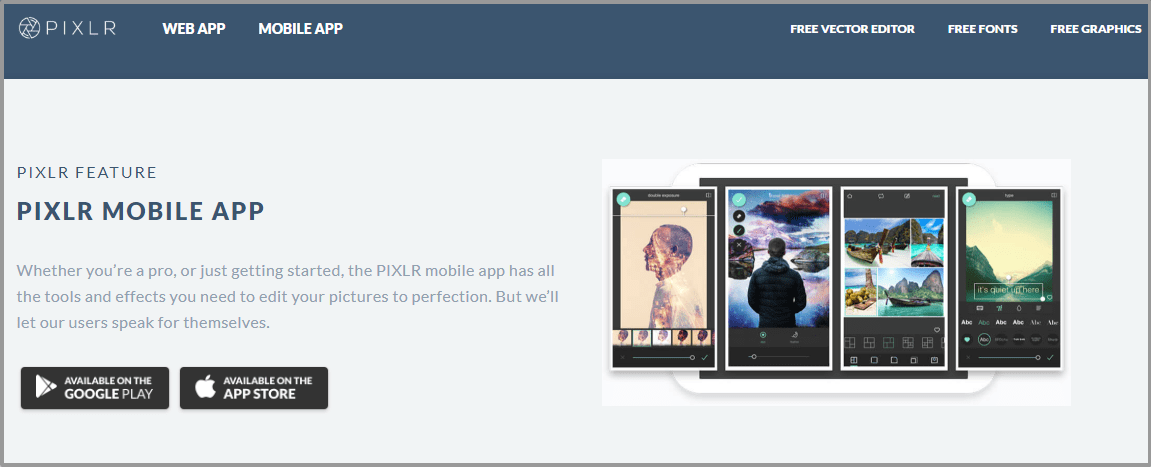 Let us introduce you to the Pixlr app, a user-friendly photo editing app delivering pro results. This app goes beyond simple photo editing, offering you the chance to create beautiful collages, layer and blend photos together, add text to photos, and resize images. Pixlr is a one-stop app for creating channel art and thumbnails - you can do everything right on your phone!
The app's claim to fame is that anyone can make good use of Pixlr, whether you're a beginner or a pro. That means the app has a very clean interface, so you can learn the tools quickly no matter your skill level. It's amazing that this app is free!
We highly recommend giving Pixlr a try when you're ready to design your next thumbnail or YouTube banner. It's especially useful if you're short on time and want to create something on-the-go right on your phone because with Pixlr, you don't need any backup tools - the app can take your design from start to finish.
16. In Conclusion...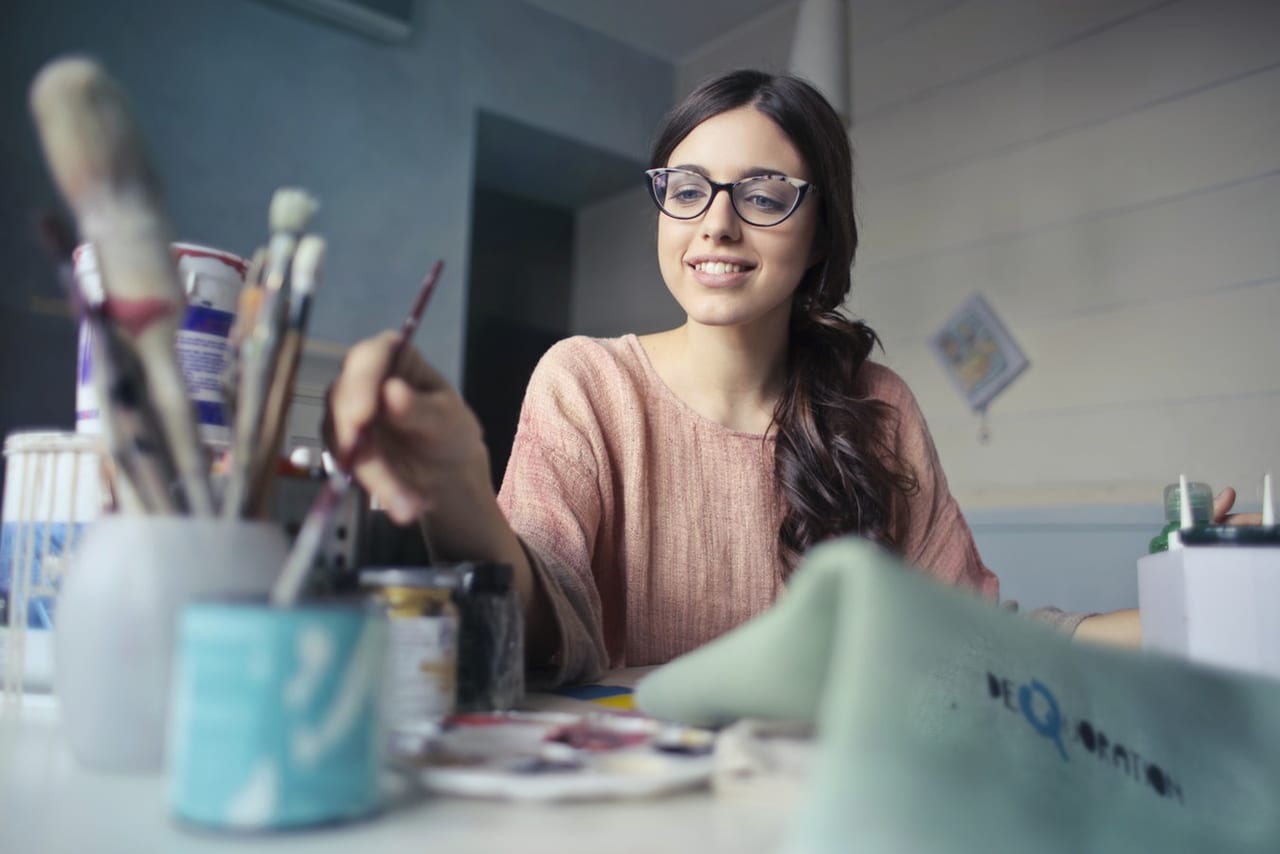 Your thumbnails and channel art on YouTube matter. Regardless of what art maker or thumbnail creator you choose, be sure to follow the rules of good design. You can even make standard templates beautiful and personalized if you know how to create designs for getting views and subscribers.
We hope some of these free tools we recommended will be a great help to your channel, giving you fresh ideas and inspiration for design.
If your goal is to earn money from YouTube, then you need to have a channel that looks polished. So what are you waiting for? Choose your favorite tool and create your next masterpiece!